The Requirements
To meet the basic qualification for this role, you will have legal authorization to work permanently in the United States for any employer without requiring a visa transfer or visa sponsorship. In addition, to be a good fit for the Senior Financial Analyst opportunity, you will have:
A bachelor's or master's degree in Finance or Accounting from an accredited institution, and a CPA
Combined 4-6 years of public accounting and industry experience; manufacturing industry experience, and an understanding of standard cost accounting is preferred
Experience with multinational financial operations, including FX accounting
Solid working knowledge of U.S. GAAP, including consolidation accounting
Proven strong analytical skills at both the macro "big picture" and detail level
Excellent organizational skills and a detail orientation
A self-starter approach and the ability to achieve goals independently
Strong communication and presentation skills
Advanced proficiency in MS Excel and Word
The ability to work in a faced-paced, deadline-oriented environment
Pictured: We work with customers to develop customized membrane solutions for batteries that optimize cell performance in unique battery system applications.
The Role
In this role you will:
Manage business partners to ensure that closing and reporting deadlines are met
Collect and consolidate monthly business unit (BU) financial results for five sites, both domestic and international
Prepare and review monthly eliminations for intercompany transactions
Prepare and review reconciliations for the monthly financial close process
Perform analytical reviews of site financial reporting information and investigate fluctuations
Manage collection of inputs for and consolidate the monthly BU financial forecast
Prepare monthly financial reporting packages submitted to BU and corporate management
Liaise with site controllers, BU accounting/finance team, the BU finance director and corporate finance team to understand operational results and follow-up / respond to parent inquiries
Coordinate the preparation and collection of quarterly disclosure-related schedules to corporate
Research, assess impact and lead implementation of appropriate accounting treatment for non-standard transactions and new U.S. GAAP accounting standards
Maintain compliance with internal controls over financial reporting
Support provision of deliverables to internal and external auditors
Assist in forecast, related support and presentation prep for annual budget and long-range plan processes
Lead financial reporting staff and mentor junior team members of the finance team
Work with the site controllers to develop and track cost management initiatives
Identify opportunities for improvements in accounting and financial close processes
Lead and contribute to accounting/finance projects, including financial system
implementation
Assist in cost accounting and R&D reporting (e.g. trials cost analyses, new product cost tracking)
Cross-train in cost accounting roles and maintain a working knowledge of the ERP and consolidation software and closing process
Perform other duties as assigned or requested
More Good Reasons
Move the needle
As you can see under
The Role
tab, you will be able to make a difference in multiple areas of finance. This will enable you to gain broad exposure and acquire new experience. You'll interact with a variety of people, giving you the chance to develop your leadership skills.
Career growth
We are proactive about building "bench strength" for leadership. History shows that strong performers can take on additional responsibilities and advance in the organization in a timely manner. Celgard dynamically stewards its resources, particularly our most important resource: our people. Because of our unique market niches and proprietary technologies, we prefer to promote from within whenever possible.
Green is the present and the future
As a tech-driven company tied to the green energy sector, we are poised for ongoing growth as tech products, from cell phones to electric drive vehicles, continue to play an ever-increasing role in people's lives.
Great work environment
We promote a performance culture with high-energy teams that encourage cross-functional collaboration with individual contributions. Continuous improvement is an integral part of that culture.
Excellent compensation
Celgard is committed to providing competitive pay and benefit programs that meet the needs of our employees and their families. We recognize that our greatest asset is our people and that they deserve the best support. In addition to a competitive wage, we offer comprehensive benefits including medical, dental, a 401(k) plan, holiday and vacation pay, and more.
Pictured: Celgard develops and manufactures a variety of lithium-ion battery separator applications that are designed to provide optimal performance in consumer electronics applications, including smart phones, tablets, smart watches and wearable computing.
Keys to Success
Your financial expertise will be essential, but just as important will be your interpersonal skills. While you will invest a good deal of time in performing analyses, this is
not
a heads-down role. You should bring a customer service approach as you interact with people in the different areas, but there also may be times when you need to be assertive to get the information you need in a timely manner. In some cases you will work cross-culturally, so you will need to be sensitive to differences and also patient in communications.
At Celgard we rely on the contribution each person brings to our organization and those who thrive here excel in a team-based environment that requires accountability, integrity, and a customer focus. Within the structure of the team, you will have ownership of your responsibilities. You'll need to be able to achieve goals independently and also contribute as a team player.
In addition, in order to be an outstanding Process Engineer, you will:
Demonstrate initiative and a sense of urgency
Pay close attention to detail and also grasp the bigger picture and how the details fit into it
Remain flexible and adaptable in a dynamic, fast-paced environment
Help promote an environment in which open and honest communication is the norm
Pictured: Celgard is committed to operating in a manner that meets or exceeds environmental and customer standards, and maintains our ISO certification to the ISO 9001 and ISO/TS 16949 Quality Management Systems and the ISO 14001 Environmental Management System.
About Us
Celgard
is a global leader in the development and production of specialty microporous membranes and is one of the largest suppliers to the lithium battery industry. Our battery separators are among the most highly-engineered and critical components of lithium battery systems. They provide a barrier between the anode and the cathode, preventing short circuits, while enabling the exchange of lithium ions from one side of the battery to the other.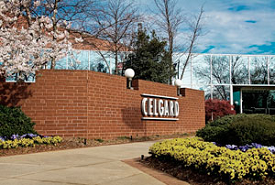 Celgard has a long history of supplying separators for portable handheld devices such as notebook computers, mobile telephones, and digital cameras. And because of their unique characteristics and reliable performance, our separators are quickly being adopted into emerging high-performance applications including lithium power tools, backup power and electricity grid management systems, and -- most significantly -- electric drive vehicles (EDVs).
With company headquarters in Charlotte, North Carolina, and battery separator manufacturing facilities in the United States and Asia, we are ideally positioned to serve the just-in-time needs of a global market.
Celgard is a division of Polypore, an Asahi Kasei Group company. The Asahi Kasei Group is a diversified group of companies led by holding company Asahi Kasei Corp., with operations in the material, homes, and health care business sectors. Its electronics operations include a broad range of high-performance energy/electronics materials such as the Hipore™ lithium-ion battery separator, photosensitive dry film used in the production of printed wiring boards, and photomask pellicles used in the production of LCD panels and semiconductors. With more than 30,000 employees around the world, the Asahi Kasei Group serves customers in more than 100 countries.