The Requirements
To meet the basic qualification for this role, you will have legal authorization to work permanently in the United States for any employer without requiring a visa transfer or visa sponsorship. In addition, to be a good fit for the Process Engineer opportunity, you will have:
A bachelor's degree, preferably in Mechanical or Chemical Engineering.
Manufacturing engineering experience. Our preference is that you have a few years under your belt, but we'll also consider recent grads with solid, relevant co-op experience.
Experience in web-based processes such as paper or non-wovens, polymer film and slitting of web-based products is highly desired. Quick question for you - click here
A demonstrated ability to function in a daily operations environment.
Proven problem solving, analysis and resolution skills using technical data and statistical methods.
Skills typical to manufacturing and process engineering with a strong emphasis on execution of projects, process improvement (process yield & product capability), equipment validation methods, and statistical analysis.
Proficient computer skills to include Excel (pivot tables, VLOOKUP, etc.), Word, and PowerPoint.
Knowledge of PLCs is a plus.
Just as important will be the following competencies and characteristics:
Good leadership skills and the ability to lead effectively without formal position power.
The ability to execute detailed plans with tight timelines to meet growing market demands.
Well-developed communication and interpersonal skills, with the ability to communicate with all levels of the organization.
The ability to evaluate team effectiveness and improve team performance.
Pictured: advancements in Li-ion battery technology have charged the electric drive vehicle (EDV) industry, and you will support production facilities at a global industry leader.
The Role
You will join a team that includes the Group Manager, three other Process Engineers, and three technicians. Like the entire team, you will provide ongoing process and product performance evaluation against key objectives such as productivity, quality, and profitability. You'll utilize yield reports, material traceability, product physical characteristics, and process instrumentation to identify opportunities for improvement or to identify and address the root cause of deviations.
More specifically, you will:
Identify and analyze process and product data to improve capability of each. Develop control strategies to optimize current products and sustain continuous improvement projects. Develop cross-functional relationships to drive continuous improvement. Quick question for you - click here This will include working closely with:

Quality technicians and engineers responsible for the control of raw materials intermediates, and finished products
Engineers responsible for plant maintenance and projects
Development team on the development of new products
Production technicians and production planning.

Initiate and participate in safety, quality, cost, and process control improvements.
May lead and/or support manufacturing start-up and qualification teams responsible for the development and installation of new equipment or process technologies. This would include:

Establishing specifications
Vendor selection and qualification
Start-up and validation of new manufacturing equipment
Supporting the transition from development into commercial production.

Validate product quality and generate qualification data packets based on internal and external customer requirements.
Lead high performance teams, working well both as a team member and a team leader.
Utilize tools such as Lean Manufacturing, 5S, failure modes and effects analysis (FMEA), data analysis, design of experiments (DOE), root cause analysis, amd statistical process control (SPC).
Note: this description is intended to give you a general overview of the position and is not an exhaustive listing of duties and responsibilities.
Pictured: We work with customers to develop customized membrane solutions for batteries that optimize cell performance in unique battery system applications.
More Good Reasons
Move the needle
As you can see under
The Role
tab, you will be able to make a difference in multiple areas of our operations. This will enable you to gain broad exposure and acquire new experience. You'll interact with a variety of people, giving you the chance to develop your leadership skills.
Career growth
We are proactive about building "bench strength" for leadership. History shows that strong performers can take on additional responsibilities and advance in the organization in a timely manner. Celgard dynamically stewards its resources, particularly our most important resource: our people. Because of our unique market niches and proprietary technologies, we prefer to promote from within whenever possible.
Green is the present and the future
As a tech-driven company tied to the green energy sector, we are poised for ongoing growth as tech products, from cell phones to electric drive vehicles, continue to play an ever-increasing role in people's lives.
Great work environment
We promote a performance culture with high-energy teams that encourage cross-functional collaboration with individual contributions. Continuous improvement is an integral part of that culture.
Excellent compensation
Celgard is committed to providing competitive pay and benefit programs that meet the needs of our employees and their families. We recognize that our greatest asset is our people and that they deserve the best support. In addition to a competitive wage, we offer comprehensive benefits including medical, dental, a 401(k) plan, holiday and vacation pay, and more.
Pictured: Celgard develops and manufactures a variety of lithium-ion battery separator applications that are designed to provide optimal performance in consumer electronics applications, including smart phones, tablets, smart watches and wearable computing.
Keys to Success
By now it should be clear that your interpersonal and leadership skills will be just as important as your engineering expertise. Process Engineers are seen as leaders, and you'll need to be able to guide and influence others. In some cases you'll assemble and lead project teams, and you'll be responsible to driving strong team collaboration and results.
At Celgard we rely on the contribution each person brings to our organization and those who thrive here excel in a team-based environment that requires accountability, integrity, and a customer focus. Within the structure of the team, you will have ownership of your responsibilities. You'll need to be able to achieve goals independently and also contribute as a team player.
In addition, in order to be an outstanding Process Engineer, you will:
Demonstrate initiative and a sense of urgency.
Pay close attention to detail and also grasp the bigger picture and how the details fit into it.
Maintain constant quality awareness and a focus on internal and external customer satisfaction.
Remain flexible and adaptable in a dynamic, fast-paced environment.
Help promote an environment in which open and honest communication is the norm.
Maintain a strong focus on safety and quality at all times.
Pictured: Celgard is committed to operating in a manner that meets or exceeds environmental and customer standards, and maintains our ISO certification to the ISO 9001 and ISO/TS 16949 Quality Management Systems and the ISO 14001 Environmental Management System.
About Us
Celgard
is a global leader in the development and production of specialty microporous membranes and is one of the largest suppliers to the lithium battery industry. Our battery separators are among the most highly-engineered and critical components of lithium battery systems. They provide a barrier between the anode and the cathode, preventing short circuits, while enabling the exchange of lithium ions from one side of the battery to the other.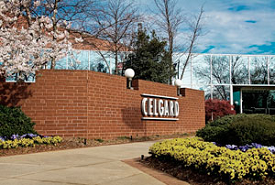 Celgard has a long history of supplying separators for portable handheld devices such as notebook computers, mobile telephones, and digital cameras. And because of their unique characteristics and reliable performance, our separators are quickly being adopted into emerging high-performance applications including lithium power tools, backup power and electricity grid management systems, and -- most significantly -- electric drive vehicles (EDVs).
With company headquarters in Charlotte, North Carolina, and battery separator manufacturing facilities in the United States and Asia, we are ideally positioned to serve the just-in-time needs of a global market.
Celgard is a division of Polypore, an Asahi Kasei Group company. The Asahi Kasei Group is a diversified group of companies led by holding company Asahi Kasei Corp., with operations in the material, homes, and health care business sectors. Its electronics operations include a broad range of high-performance energy/electronics materials such as the Hipore™ lithium-ion battery separator, photosensitive dry film used in the production of printed wiring boards, and photomask pellicles used in the production of LCD panels and semiconductors. With more than 30,000 employees around the world, the Asahi Kasei Group serves customers in more than 100 countries.